You need to operate with standardized procedures to maintain quality and revenue as a delivery business. But what if you could add a lot more to your earnings by offering a high-end version of your existing service portfolio?
While the notion of doing so wasn't as popular in the past, with the rise of the eCommerce businesses, it is safe to say that it is the right time to move into this new domain. That is why many leading logistics companies are including white-glove delivery services into their portfolio today.
While they have the required resources to achieve this feat, they are also aware that they can leverage the first-mover advantage and improve their bottom line substantially.
So, What Is White-Glove Delivery?
In a nutshell, white-glove delivery picks up the concept of customized customer service, applies it to last-mile delivery services. Logistics partners pick up the goods, ensure that they are well packaged for transit, and deliver the products to a customer. Also, white glove delivery services manage secondary functions like providing installation support if needed.
Apart from the services mentioned above, white-glove delivery service is also associated with packaging goods at a premise, moving them up or down a flight of stairs, and providing exceptional care for the fragile items in the order. This is the primary reason why furniture and electronic appliance sellers opt for white-glove delivery services. For customers, it eliminates the hassle involved in transporting fragile items by themselves. They are happy to pay more to the professionals to receive goods safely rather than risk transporting them personally.
As a delivery company, you can consider it a high-value delivery service with typically higher revenues and profitability. But what matters is the peace of mind a customer receives when you give special attention to their orders at a marginally higher price.
When Is White-Glove Delivery the Preferred Option?
There is no strict list of which businesses can use white-glove delivery services. While high-end product companies use this service to offer an unmatched delivery experience, small or medium-sized companies can also leverage white-glove delivery services to create a strong brand name.
For example, certain car dealerships offer a white-glove buying experience to their customers by enabling them to choose their favorite car from the comfort of their homes. Another excellent example of a white-glove delivery service is displayed by Louis Vuitton, who offer a delightful delivery experience to their customers.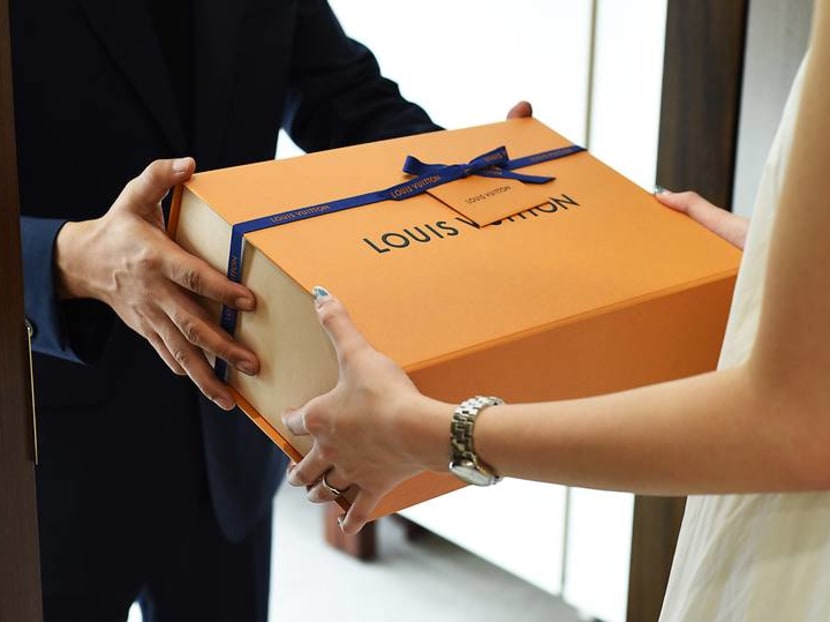 But to give you a clear picture of when white-glove delivery services are considered, let's take a look at some of the cases where it is a preferred mode of delivery.
When customers want their packages to be handled and delivered with utmost care
When the services of a technical expert are needed, like when delivering a new TV followed by installation
In cases where the delivery team needs to coordinate with warehouses to pick up and deliver the orders
For products that require climate-controlled warehousing, white-glove delivery services offering specialized storage options are a preferred mode of delivery
When customers wish to receive round the clock support for their orders
For high-value products like furniture and electronics where the delivery team must load the product from the showroom and handle it with care during the transit
Large-scale projects like moving a house where every item in the house needs to be packaged in safety crates and reliable storage options
Top 5 White Glove Delivery Software
Now that you have a better idea about the benefits of white-glove delivery, it is time to look at the software solutions that allow your business to incorporate them into your portfolio.
Let's take a look at some of the popular white-glove delivery software available today.
1. NetworkON
NetworkON is one of the fastest-growing white-glove delivery management software that works seamlessly for multiple industries, including home, healthcare, pickup and drop business, maintenance, trucking, retail, furniture, electronics, luxury delivery, logistics, and food & beverage, to name a few.
NetworkON leverages the power of artificial intelligence (AI) to provide route optimization and geofencing capabilities with pinpoint accuracy.
To learn more about the comprehensive features of NetworkON, click here.
2. Dispatch Track
It is an AI-based white-glove delivery service provider that optimizes your last-mile logistics. It helps brands connect with their customers, delivery partners, and administrators to handle large-scale last-mile delivery operations.
Key features of Dispatch Track include:
White-glove delivery management capabilities
Intelligent routing and optimization
Online proof of delivery for daily functions
3PL management capabilities
3. FarEye
FarEye's Intelligent Delivery Orchestration Platform allows you to incorporate and manage white-glove delivery solutions in your business. It is best known for optimizing last-mile delivery operations to increase on-time deliveries and foster customer engagement at scale.
Key features of FarEye's solution include:
Cross-docking management
Driver tracking in real-time
Routing and dispatch optimizations
Reverse logistics and billing
4. Bringg
It is a leading customer-centric white-glove delivery service solution for enterprise customers. It leverages robust technology platforms to streamline your logistics operations and make the delivery process more manageable.
The key features of Bringg include:
Route optimization and planning
Different apps for Android and iOS
Real-time tracking of delivery teams
Track orders and history
5. Shipsy
Shipsy is a SaaS-based white-glove delivery management platform that automates everyday operations and positively impacts costs. It offers transparency in the delivery process and can help your business increase first-attempt deliveries.
Key features of Shipsy include:
Automatic dispatch and order management
Real-time tracking and shipment management
Barcode reading services for billing related services
Route planning and fleet management
Final Thoughts
NetworkON offers customized solutions for your business and seamlessly integrates your existing technology stack. As a result, you can easily manage white-glove delivery operations of all sizes and scale up the operations as and when required. Want to know more about getting started with NetworkON? Let's talk! Get in touch with our experts today. You can email us at info@networkon.io or visit our website. You can also learn more about the ongoing trends in white-glove delivery from our blog section.